Reports
'True Counterpower' event in the 'People's Parliament of North and East Syria' in the Netherlands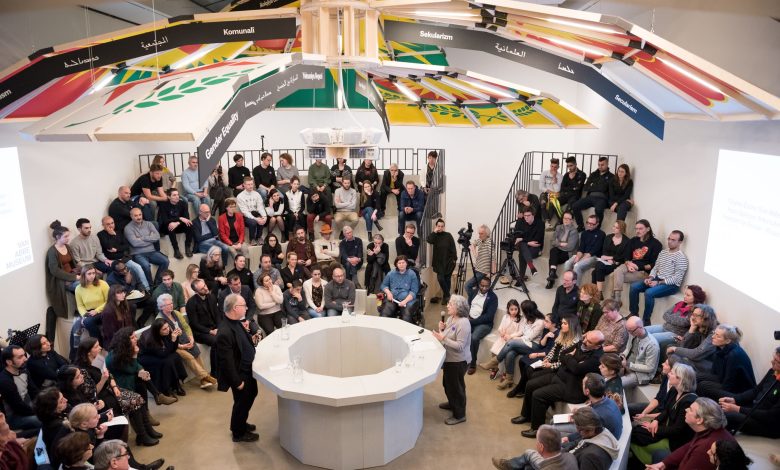 In the Van Abbe Museum in Eindhoven, the Netherlands, the first assembly of the 'True Counterpower' event was held in the space called 'Museum as Parliament'. The parliament, which can be visited in the museum, was built in 2018 by Dutch visual artist and propaganda researcher Jonas Staal in cooperation with the Kurdish community. 'Museum as Parliament' is a reconstruction of the People's Parliament in Derik, which was developed for the Autonomous Administration of North and East Syria. In the parliament, which is also known as the People's Parliament of Rojava, where various events and meetings have been held since the year it was founded, the first of the events titled 'True Counterpower', which consists of various trainings, was held this year
'True Counterpower', which is the collective name of all forces that are resisting the current system according to the organizers, is a series of events with training given by several mass organizations. The first trainings were given by the ecologist movement Extinction Rebellion, the Iranian feminist women initiative Jina Collective, the Kurdish women movement TJK Netherlands, and the Kurdish foundation EcoWomen. The organizations introduced their own tools and methods of resistance in the first of the training series.
The Jina collective gave a presentation on the role of women in the ongoing resistance in Iran. Expressing that the resistance is not only a demand for rights for women, but also a struggle for 'becoming a woman', the representatives of the collective emphasized the importance of feminist struggle and how struggles become intersectional when a variety of movements stand with each other. A current example being the oil workers who are blocking roads to oil plants and standing in solidarity with women in Iran. The presentation ended with a joint banner work accompanied by music of Iranian resistance marches.
In the workshop jointly prepared by TJK Netherlands and EcoWomen the co-chairperson system, jineology, ecological studies and the history of the slogan of 'Jin Jiyan Azadî' (Woman, Life, Freedom) were explained. The presentation also contained information about Jinwar, a women's village established in North and East Syria. At the end of the training the symbolic significance of the Kurdish dance, which is called 'govend', was explained and 'govend' dances were performed with the participants.
Another training was held by the environmental group Extinction Rebellion (XR). Environmentalists, known for their occupation actions of roads and public buildings, gave presentations on civil disobedience and methods of nonviolent resistance. During the training reconstructive debates about intersectionality took place. Following the ongoing debate on ways to involve wider segments of society in ecological work, the trainees also theatricised their protests through a demonstration of the Red Rebels in action.
At the event, which concluded with the joint evaluation of all the presentations, it was emphasized that the tools for cooperation should be developed. The next 'True Counterpower' meetings will be held with different organizations in May and June. It will end with the submission of a joint declaration with all participating organizations in the 'People's Parliament of Rojava' on November 25, 2023.